Timaracoon's Blanche Fleur Again !!! BIS
22 October -2017 FLANDRE,ZANTHOVEN Belgium
Parents : DK*Boromir Milton & DE*AmericanBeauty's Cherry Lady
Thank you Annie & Guy Guillaume we are very proud

Timaracoon's Blanche Fleur 2 DAYS BIS 2 DAYS BEST SUPREME
14-15 October -2017 Binche Belgium
Parents : DK*Boromir Milton & DE*AmericanBeauty's Cherry Lady
Thank you Annie & Guy Guillaume

Timaracoon's Valesco 01.09.2012 "ARENA OF CATS" (1.KRV) SHOW in Mannheim, Germany BEST in SHOW


Great week-end Fife show in Morges (Switzerland)
Timaracoon's Vanilla Rose
30.06 (3-6 months) Ex1 and BEST in SHOW !!!
01.07 (6-10 months) Ex1 and BIV TOTAL !!
6 month
Timaracoon's Vanilla Rose , FIFE show Düdingen (Switzerland)
09.06.2012 EX1 - BIV Total - NOM- BIS (2 of 5 votes) !
10.06.2012 EX1 -NOM -BIS
5 month

WCF WORLD CAT SHOW in Haifa (Israël )
Timaracoon's Ginger Rose ,nominated the first day for best as Junior and on the second
day she was best Junior maine coon on the maine coons ring !!!!!!!!!

FIFE WORLD WINNER SHOW POLEN (POZNAN)
Timaracoon's Golda Mae , Best Maine Coon in Class 6 Till 10 months Females with silver
Timaracoon's Golda Mae 04.09.2011 Belgicat EXC 1 BV nom BIS and BIS !!!



Timaracoon's Norah Jones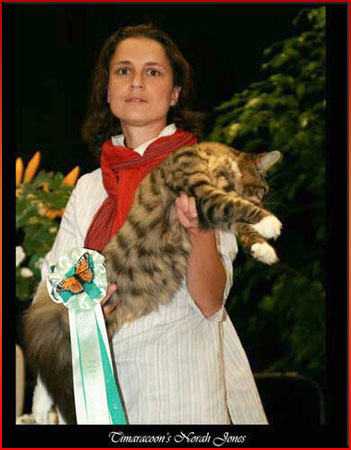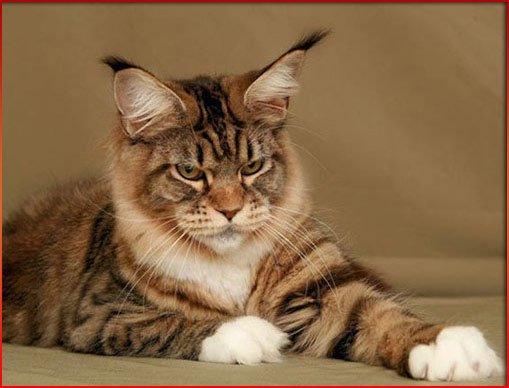 Parents: Timaracoon's Perdita & Pillowtalks Jagger




WCF SHOW in Moscow nom BIS kittens two days 11-12-April
And the best kitten Semi-Longhair!

Timaracoon's Lambada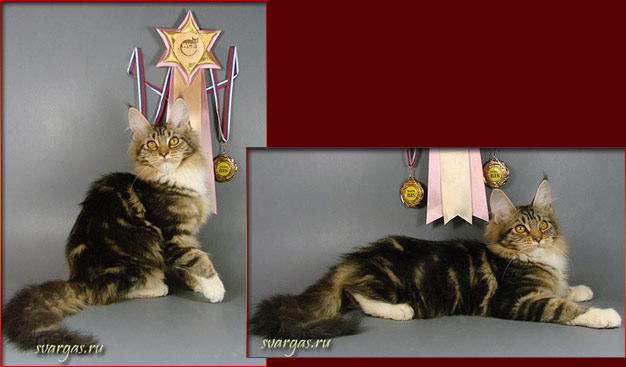 Parents: AmericanBeautys Raby May & Pillowtalks Jagger



Top

WCF SHOW inMoscow (Russia) 14 okt
Best Junior and winner of the"Hill"s Cup-2007 " (unanimous)

Timaracoon's Las Vegas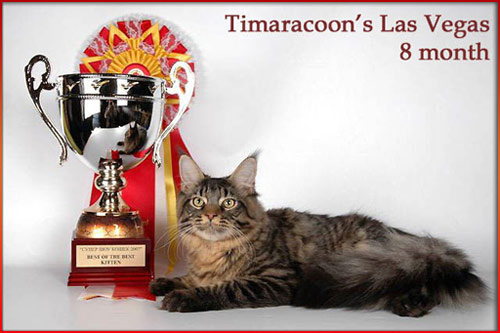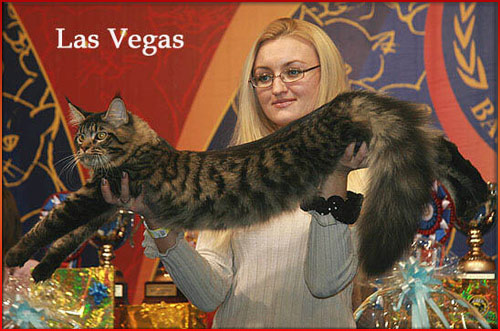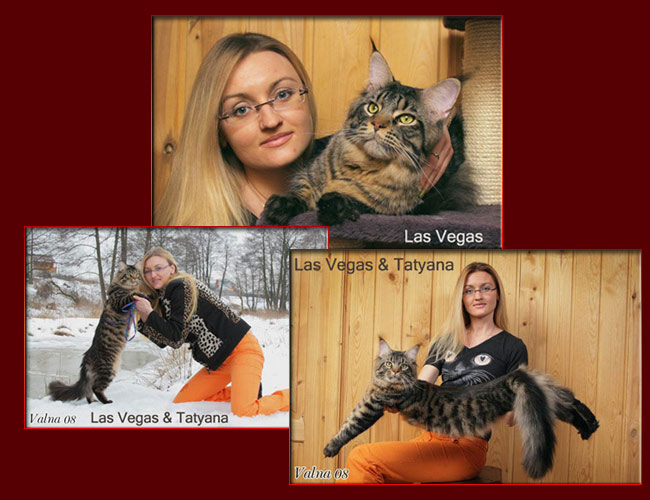 Parents: FarahDiba & Black Sky Belmicoon


QGC (TICA), ICH (WCF) Timaracoon's Montana in Russia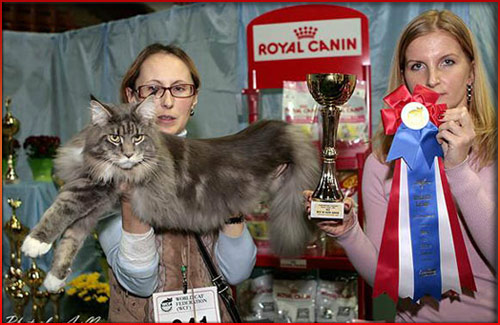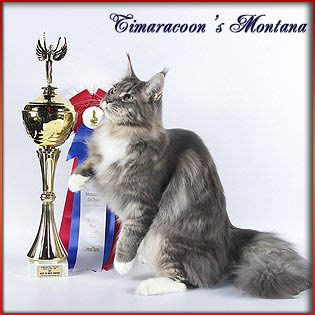 Parents: Pillowtalks Up2Date & Kassaro Muster




DGC-TGC Timaracoon's Debby-Rose of Norsycat 23-10-05 Krems (Austria)
BEST OF BEST TICA 10 rings 10 finals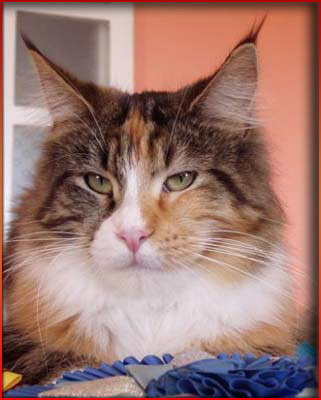 Parents: AmericanBeautys Devotion & Langstteichs Don Juan




Timaracoon's Alisha
Best Kitten 3-6 and 6-10 month in Östkatten 2006 Sweden all breeds,
and 3:rd Best Östkatt Totally!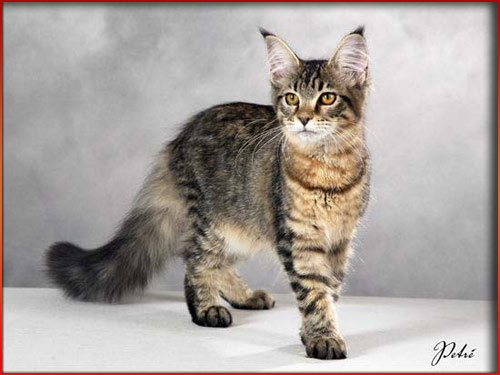 Parents: Langstteichs Ca'Price & Black Sky Belmicoon




Timaracoon's Chagall
07.06.08 Show Rheinberg Germany BEST in SHOW specialprice!!!! class 3-6 month
02.08.08 Show Hamm Germany BEST in SHOW JCAC class 6-10 month
Parents: Branacoonstory Baghera & Black Sky Belmicoon




Timaracoon's Zhivago
1e CFA show in Indonesia 3e and 5e Best kitten all breed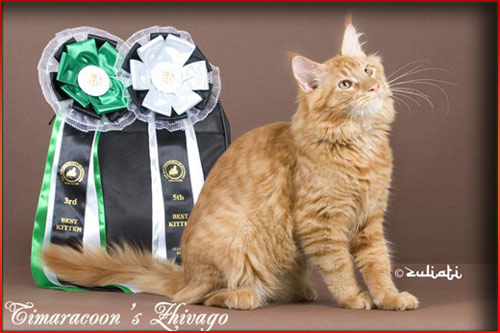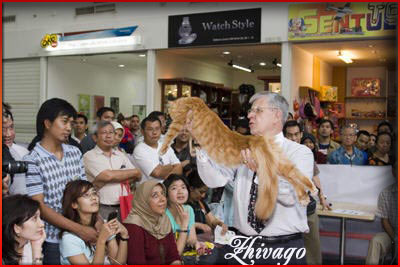 Parents: BigGiants Papillon & Black Sky Belmicoon




RW Timaracoon's Lennox
Became the show season 2003/2004 in Tica
Best Maincoon kitten of Europe North
4e Best kitten all breed of Europe North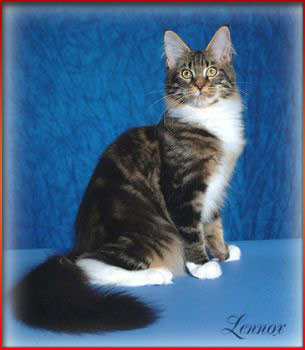 Parents: Langstteichs Lillyth & ArcticCoon's Pavarotti




Timaracoon's Perfection Best Mainecoon- Best In Show & Best of Best (unanimous)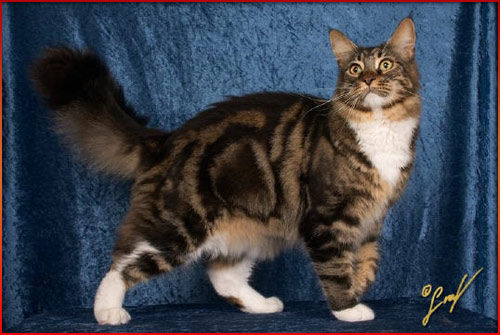 Parents: Superstars Pricilla & Weidebusch H.Lucas




CH.Timaracoon's Red Baron (Red Gloria & Black Sky) Holland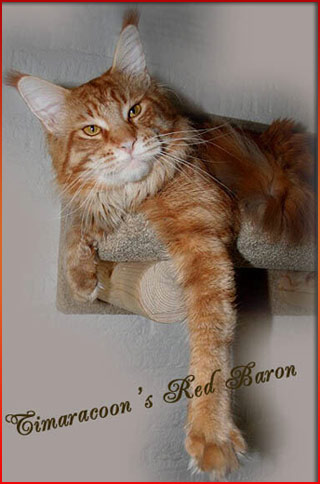 Parents: Langstteichs Red Gloria & Black Sky Belmicoon


Red-Gloria
Zutphen 2003
BIV-BIS-BOB-BEST OVER ALL

Timaracoon's Perdita
Zutphen 2003
BIV-BIS

Parents: Superstars Pricilla & Langstteichs Count Down



Super-Stars Odessa
Nieuwegein, BIV-BIS-BOB